Check out the MLS Draft below:
Toronto FC has been an easy scapegoat for analysts and critics. If the past season's five wins and twenty-one losses were not enough to draw negative attention, the off-season's theatrics provided more than enough news to bring up even more questions about the club who came into the league as a promising, superbly supported franchise.
So let's start with the end of last season. TFC capped off an awful year with angry supporters, awful play and upper management without any true direction or guidance for the club. And BOOM! Upper management gone, half the team released, and no head coach or team staff left standing. That does not exactly bring any confidence to the Original 109, the Red Patch Boys, the Tribal Rhythm Nation, and U-Sector fan groups for Toronto FC. Toronto goes out and hires someone who has done it. Someone who has brought a club from utter meaninglessness to national prominence, who has created a culture around a club, something TFC has really lacked. Kevin Payne becomes TFC's new president and immediately begins a search for a new head coach. For reason's beyond knowledge he decides on a coach who is still playing in the first division of English football, with Queens Park Rangers in the Barclay's Premier League. Fine, I can handle that. Ryan Nelson wants to coach; he has a wealth of knowledge and experience that he can share with his team. If nothing else, Nelson will show the boys how hard work and proper body management can extend professional careers and bring success to Toronto. Still, Nelson was absent for the MLS Superdraft and for the start of Toronto FC's preseason. I can't comprehend how anyone thought that was the right message to send to the players. Still, with the selection of Kyle Bekker and Emery Welshman TFC did make positive picks that will help solidify the midfield and attacking options for the team. What it didn't do was sure up the backline, something that TFC has lacked consistency with over the past three seasons.
Absent coach, absent central mentality to a team without an identity, absent  discipline for a team that cannot show up to preseason fit. This is where it gets good. TFC's preseason began with a select crew of players showing up completely unfit to train. How is the team expected to progress on the field without being fit? Fitness is at least a crutch to lean on before the intricacies of a team's philosophy and playing styles can latch onto each other. Payne said this of the unfit players," It just won't happen, or you won't be here, end of story." I agree with what he said but why did it happen in the first place. Why were these professional soccer players not monitored during the offseason? Why are they being let off the hook this time? For me, this was a great change for Payne to show that there a zero tolerance policy for unprofessional behaviour. Still, Nelson wasn't there so it wasn't Payne's place to throw them out. I'll give him an out there.
Fast forward a bit and here we are. Nelson is done with QPR and has finally assumed his role and head ambassador for a fledgling organization. And BOOM! the best player (and highly overpaid), Torsten Frings retires. This is a massive blow to TFC's midfield but not one that cannot be recuperated with the smart purchasing of a new, younger, healthier, more deceptive designated player. Personally, I'd just double Nelson's salary, make him a player-coach, have him sure up the back four and give a little bit of freedom to the front three. That could be a great recipe for success!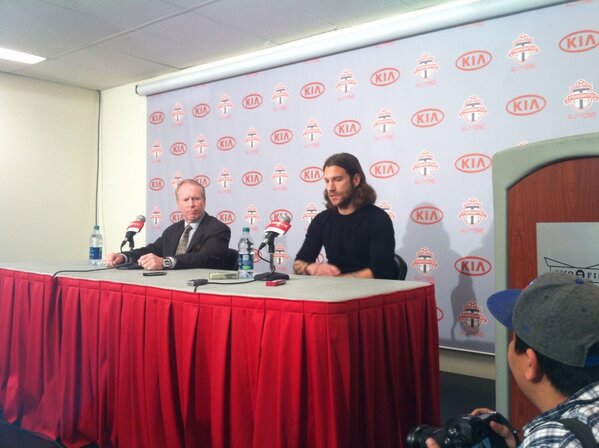 But I digress, the bottom line is Nelson has a lot to prove. He has never been a coach. He has never been the head coach of a franchise in need of saving. He has never been put in charge of commanding a ship that has no clue where due north is on a compass. He needs to step in here and save TFC. The fans have had enough, the league laughs at them. In the first few weeks of the season any bad result will be magnified and over analyzed by anyone with an ounce of Toronto blood in them. My only hope is they give Payne, Nelson and the new crew a chance. TFC has finally turned in the right direction. Frings plans on being an ambassador for TFC in Germany. Any link with the Bundesliga is a good one. Things are going the right way. I'm looking forward to watching this season unfold.