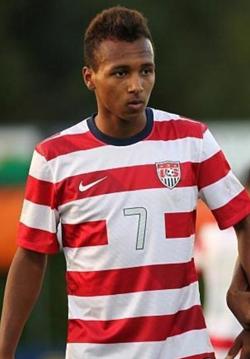 Julian Green has chosen to represent the #USMNT! The @FCBayern forward has applied to FIFA for a Change of Association

— U.S. Soccer (@ussoccer) March 18, 2014
This is HUGE news. If you are a US Soccer fan you should be jumping up and down in elation. Julian Green is a very talented 18-year old winger who players for Bayern Munich and has dual citizenship in both Germany and the United States. He is a very talented player who could easily start on the German National team in a few years had he designated himself as a German international to FIFA. However, Jurgen knows how talented he is and has pursued him heavily and by the looks of it that desire has paid off. It also helps that Jurgen has told Julian that he could make the World Cup roster for 2014. Playing a World Cup at 18 is a hard opportunity to pass up and Julian Green could make an impact. This is a sign that US Soccer has become an attractive option for dual citizens with US citizenship. We have already got a number of dual citizens to switch their allegiance to the USMNT, such as the immensely talented Aron Johansson , and it has greatly improved our team. US Soccer has had a big win today and the World Cup doesn't start till June.
Read More: http://www.mlssoccer.com/worldcup/2014/news/article/2014/03/18/report-bayern-munichs-julian-green-will-train-usmnt-arizona-could-still-make