Unless you are living under a rock, the world is a buzz talking about the World Cup draw, and there is no shortage of talking points. See below for the group pairings.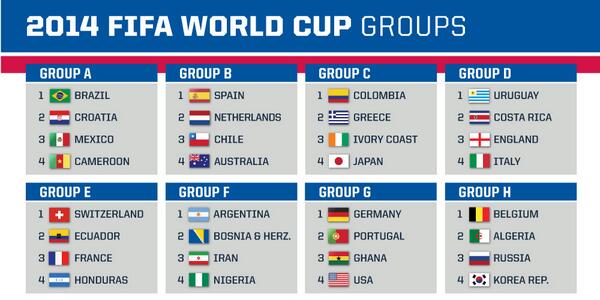 Group Rankings
Group G – It comes as no surprise that Group G is this World Cup's Group of Death. All four teams have high ambitions and would be expected to advance from nearly any group. Germany, one of the favorites to win the tournament, will be disappointed to see the three dangerous teams  they have been drawn with. All four teams advanced to the Knockout round of World Cup 2010 and will be eager to return to the Round of 16 in Brazil.
Group B – It is a testament to the strength and depth of the World Cup field that the two finalists from last World Cup (Spain and the Netherlands) can be drawn into a group with Chile, a confident, talented upstart, and it not be considered the most challenging group in the tournament. It's really a shame that only two of these teams will advance because they are all capable of advancing deep into the tournament. Don't pencil Spain and the Netherlands into the next round just yet because Chile is fully capable of stealing either of their spots. As for Australia, thanks for coming and enjoy the sights.
Group D – Some may argue that Group D is the second most challenging group in the field, and it is difficult to dispute. It certainly is stronger top to bottom because Costa Rica poses a much more serious threat to the group favorites than does Australia. However, Uruguay, England, and Italy all had their hiccups during their qualification campaigns, and none of the three are as strong as Spain or the Netherlands so I gave Group B the nod. That being said, Group D should be a thrill to watch, and each team will believe they can advance. England and Italy are rich with talent and will be looking to rebound from disappointing 2010 World Cup performances. Uruguay will look to take advantage of playing close to home and to piggyback on the strength of their golden generation of talent for another deep run into the World Cup. Costa Rica is a tricky side that is talented enough to steal points from any of these teams and fully believes that it is good enough t0 advance.
Group C – When Ivory Coast was paired with Colombia after two rounds, I thought this was going to be the Group of Death. While that premonition did not materialize, this group is still tough and boasts the most diverse playing styles of any in the tournament. Greece and Japan each possess the appropriate combination of chemistry, toughness, and talent to threaten Colombia and Ivory Coast. I expect the favorites to go through, but Greece and Japan cannot be counted out.
Group A – I went back and forth on the rankings for Groups A, E, and H, but I feel that I ultimately got them right. Assuming Mexico gets their act together by June 13th, they are one of the ten most talented teams in the field and have advanced to the knockout stage in five consecutive World Cups. Moreover, they should be familiar with the facilities, having played in last year's Confederations Cup. As for Croatia, few teams can match there core of Mario Mandzukic, Luka Modric, and Ivan Rakitic so don't overlook them to challenge Brazil and Mexico. Cameroon is no push-over either so look for them to steal some points.
Group E – While many feel that this may be the second weakest group in the field, I am a bit more bullish on this group. Switzerland was certainly awarded a seeded position over some traditional soccer powers, but they are no slouch. Switzerland possesses a dangerous combination of experienced and talented players. Don't forget that they beat Spain in their opening match of the 2010 World Cup. Although France struggled during qualifying, they, like Mexico, are enormously talented so if they can figure out how to mesh together they will be a force to reckon with. Ecuador struggles to score but plays stout defense so they may frustrate their more talented counterparts. While Honduras is likely to be over-matched, they did qualify for the last World Cup so they have some experience.
Group H – Belgium will be thrilled with their group. Algeria is one of the weaker teams in the field, and Belgium  has to like their chances against Russia and South Korea, especially considering the other potential groups they could have been drawn into. Russia, who qualified above Portugal, should like their chances as well. They are a quality attacking football team that plays with as much spirit as anyone in the field. South Korea will challenge Belgium and Russia but are not as strong as some of their sides from the past few World Cups.
Group F – Argentina were the big winners of the day, drawing the easiest group in the field by some margin. However, as mentioned above, this is the deepest World Cup field ever, and these other teams will not be intimidated of Argentina. Bosnia won their UEFA qualification group and scored a lot of goals in the process, though this is their first World Cup. Iran qualified at the head of their group as well and is managed by Carlos Queiroz, former coach of Portugal and right-hand man to Sir Alex Ferguson, so they will be well-prepared. Nigeria is a team with plenty of World Cup experience so they will not be fazed by the bright lights of the World Cup stage.
Storylines
FIFA's World Cup Draw Process – Moreso than the vitriol directed at FIFA regarding the USMNT's inclusion into the Group of Death, FIFA should seriously consider changing its selection process for the World Cup groups. It is a shame to see such an inequitable balance of strength among each of the groups. Spain and the Netherlands are two of soccer's powerhouses and met in the finals of the last World Cup yet were assigned to the same group. Now that the World Cup field is deeper than ever, it is time for FIFA to seed all of its teams so that it can distribute the field of teams to the eight groups more equitably (and can even maintain their principle of geographical separation). The World Cup occurs too infrequently to be marginalized and diminished by shoddy group assignments.
USMNT's disastrous draw – We knew a group of death was a possibility, but drawing Germany, Portugal, and Ghana still felt like a punch to the gut. Adding nearly 9,000 miles of travel to the draw, the most of any team in the tournament (we are team G4 from this article), only adds to the challenge. However, the expectations are such that the U.S. will enter each game confident that it can play with and earn a result versus each of their talented opponents. This draw presents the U.S. with a tremendous opportunity to see how they stack up against the best in the world.
Knockout Round Thoughts
Brazil vs Spain / Netherlands – Brazil is the heavy favorite to win Group A, but their reward will be a round of 16 matchup against the runner-up of Group B (most likely Spain or the Netherlands). What an absolute monster of a game! A matchup this good is normally reserved for a final or semi-final at the very least.
Colombia's Chances – I liked Colombia's chances of advancing deep before the draw, and the draw has done nothing to change my opinion. Colombia is an extremely talented team that is flying a bit under the radar. It's rare to hear someone discuss Colombia's chances of making the semi-finals or even winning the World Cup, but they have as good a shot as anyone outside of BAGS (Brazil, Argentina, Germany, Spain). They are ranked fourth in the FIFA rankings and played really good soccer during their strong qualification campaign. Radamel Falcao spearheads a formidable strikeforce that will make some noise this summer.
Betting Thoughts
Messi as Golden Boot Favorite – Messi will surely be the primary beneficiary of Argentina's fortuitous draw. Messi, yet to replicate his stellar Barcelona goal-scoring prowess at a World Cup, will be licking his chops when he sees his opponents in Group F. Argentina and Messi are primed for a big tournament and will look to pile in goals during the group stages. Given the draw, Messi is easily the favorite to win the Golden Boot. Watch out, Group F.